Electromagnetic Flow Meter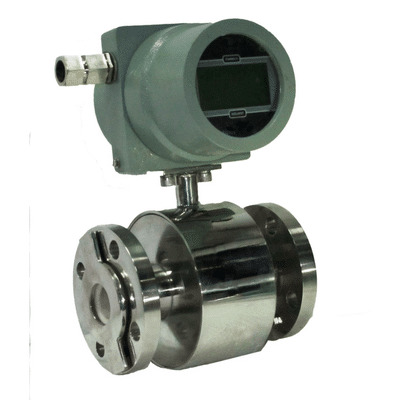 Process Control Devices offers a series of digital flow meters. Design to measures the flow rate of a liquid flowing through the close pipe.
The electromagnetic flow meter is volumetric flow meter having no obstruction as there are no moving parts
. Hence pressure drop is negligible.
The performance is independent of density, viscosity, temperature, and pressure of the flowing liquid
.
The magnetic flow meter is calibrate using water and can measure the flow of other conductive fluids, with no further correction
. This is a special feature that other type of flow meters doesn't have. PCD is one of the leading Electromagnetic flow meter manufacturers in Mumbai India.
Working Principle of Electromagnetic Flow Meter
Electromagnetic flow meters work on the principle of "Faraday's Law of electromagnetic induction". According to the law, "when a conductive liquid cut the magnetic field, voltage Induce". Further, that voltage signal is sensed by the electrode which is mounted on the wall of the flow tube. That induce voltage signal is process by the electronic transmitter to determine the flow. The generation of voltage is directly proportional to the velocity of the fluid.
Construction of Electromagnetic Flow Meter
Electronic Part consists of head type Flow Indicator which contains Microprocessor Controller chip mounted on the electronic circuit. It has the LCD display, Which shows the Current flow rate & Total commutative flow. Also, has a transmission feature of 4-20 mA output & RS 485 Communication with High & Low Flow Alarm. To operate it requires an external power supply of 24 VDC or 230 VAC.
The mechanical part consists of Flow Tube, Lining such as of PTFE Or Neoprene, Electrode, Magnetic Coil, Flange connection. Flow Tube Material is non-wetted part and should be of the nonmagnetic material such as SS 304 Or SS 316. Selection of Lining Material must be according to temperature, corrosive property & compatibility of the measured fluid. Neoprene can resist general weak acid, alkaline corrosion and can withstand temperature unto 80˚C, but it has wear resistance. As PTFE (Teflon) has low wear resistance and have good compatibility to almost all strong acid, chemical, alkaline corrosion, ETP Water, Waste Slurry. And can withstand temperature up to 180˚C. Selection of Electrode Material must be according to corrosiveness of measured fluid
Process Perameters
Fluid: Liquids
Sp. Gravity: Up to 2.95
Viscosity: Up to 3000 cp
Design Pressure: Up to 15 Kg/cm2
Measuring Range: 0.1 to 350M3/hr
Velocity Range: 0.5m/s to 10m/s
Mechanical Specification
Line Size: 15 NB to 300 NB
Lining Material: PTFE, EPDM, NEOPRENE
Electrode Material: SS316,  Hastelloy C, Titanium, Monel
Design Temperature: Up to 150 DegC
Connection: Flanged to ASA, BS, DIN
Electronics Specifications
Programming: By Membrane Key
Power Supply: 24 VDC Isolated, 230 VAC, 110VAC
Out Puts: 4-20mA, 4wire, Pulse,
Communication : RS 485 MODBUS
Accuracy: ± 1% of FSD & ± 0.5% on request
Linearity: +/- 0.5 %
Repeatability: 0.5%
Maintenance

100%

100%

User Friendly

98%

98%

Accuracy

99%

99%

Perfomance

95%

95%

Cost Effective

90%

90%
Silent Features
Total / accumulated total / flow rate
Auto empty-full pipe check
Ultrafast response time
4-20mA and pulse output
high and low alarm (2-relay output)
Modbus (RS485)
Can handle slurries and heavy particulates
Good accuracy (0.5 to 1%)
Can respond well to fast changing flows
Insensitivity to viscosity, specific gravity, temperature and pressure (within certain limitations)
Will work with laminar, turbulent, and transitional flows
Virtually no pressure drop
No moving parts
Lining protectors available for harsh, chemically corrosive, and abrasive fluids
Can respond well to fast changing flows
Advantage of Electromagnetic Flow Meter
Have no moving parts, results in no maintenance
Negligible drop
Easy to Install
Accuracy is high
Bi Directional flow measurement
Performance is unaffected by Density, Viscosity, Temperature & Pressure
Available in wide variety of sizes
Provides a signal output of 4-20 mA current & RS 485 Communication.
Empty pipe detection feature is available
Applications of Electromagnetic Flow Meter
Distribution Network
Waste water treatment
Sludge / sewage
Dosing of additives
Corrosive, abrasive liquids / Slurries
Blending, dosing, batching
Process chemicals
Mining slurries
Paper pulp waste
Monitoring and control of a variety of industrial effluents
Water monitoring in industrial plants
Features of Electromagnetic Flowmeter
The electromagnetic flow meter is maintenance free & cost effective option if you are looking for digital flow meter for measurement of Water/Waste Water, Acid and Corrosive Chemical etc.
It has an integral LCD display which displays the flow rate & total commutative flow consumption of conductive fluid passes through the flow meter.
It has numbers of more features such as 4-20 mA current output signal, which you can use to connect it to your DCS or BMS system. With the help of it, you will be able to watch the flow rate & total consumption of flow meter in your DCS or BMS system which further can be use for data logging.
It has an advance feature of RS 485 communication port. Used to watch the flow in your computer and automation systems with the help of USB interface and software. It is use in industrial applications where higher speeds and longer distances are must.
It also has an option of High & Low Flow Alarm with relay output to monitor the flow rate.
It has a Die cast aluminum weather proof enclosure and is design in such a manner that it can be mount on outdoor atmosphere.
The availability flow meter in various line size results in the satisfactory of customers need. High Accuracy, Solid Construction, negligible Pressure drop, Easy Installations, No Maintenance etc.
Want to buy Electromagnetic Flow Meter?
Contact us today and get best techno commercial quotation