Full View Sight Glass
sight glass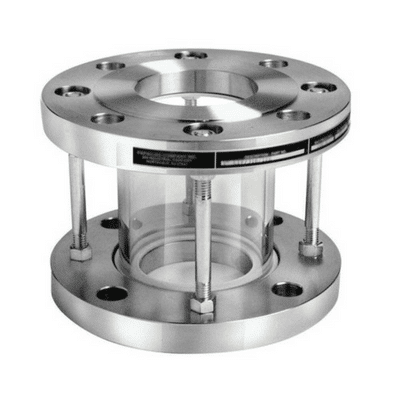 Description of Full View Sight Glass
Process Control Devices offer a series of full view sight glass designed to check the inline flow of various liquids. Full-View Sight Glass enables maintaining the flow of liquid through viewing instantaneously and guides for any subsequent change in the required flow.
 The glass is non-reactive, non-contaminant with almost all types of fluids, therefore, made it universal engineering product. The Sight flow indicator is used in various industries for the requirement of different applications to inspect the process fluid and visual indication of the flow and contents in pipes.
 Full View sight glass consists of two process flanges, flange material will be varied as per the client requirement like mild steel, stainless steel, carbon steel, polypropylene, and Teflon lining. Another major term is toughened borosilicate glass tube. This glass is sandwiched between two of flanges using studs in order to make it leak proof and withstand pipeline pressure. After final assembling, we test it using hydro test equipment. Pharmaceutical industries use full view sight glass with tri clover connection to maintain their GMP guidelines for fittings is called tri clover sight glass.
Specifications of Sight Glass
Line Size: 15 NB to 150 NB
Wetted parts: MS, SS 304, SS 304L, SS 316,  SS 316L and PP, PTFE Lined
Connection: Flanged to ASA, ABS, DIN, JIS, Screwed BSP, NPT, Butt Weld
Design Temperature: Up to 200°C depending upon the type
Design Pressure: Up to 10 Kg/cm² depending upon the type
Types of Sight Glass
► Full View Sight Glass
► Full View Sight Glass With Indicating Ball
► Full View Sight Glass with Tri-clover Connection
maintenance

98%

98%

User Friendly

100%

100%

Accuracy

98%

98%

Perfomance

95%

95%
Application
► Water flow rate monitoring
► Inertisation of vessels and tanks
► Sample flow monitoring for analysis
► Emulsifiers and demulsifiers
► Gas seal monitoring for turbo compressors
► Coolant and lubricant
► Dry-run and overheating protection
► Air supply, Condensate and cooling water supply
► Dosing of protective gas
► Gas sparging aeration basin
Silent Features
► 360 Deg Full View
► Easy Maintenance
► Low Cost
► Available in all most all Materials
► Manufactured to the Highest Standard
► Tempered Borosilicate glass
► P.T.F.E. [Teflon] Lined Sight Glass
► Special Face to Face Dimension
► Tailor Made Sight Glass
►  Sizes Range from 15MM To 150MM
► End Connections as per ANSI B 16.5/BS 10 Table/DIN Std.
► Material Test Certificate & Pressure Test Certificates furnished on request.
Want to buy Full View Sight Glass?
Contact us today and get best techno commercial quotation