Custody Transfer Turbine Flow Meter
Custody transfer is one of the crucial applications for flow measurement. Many flow measurement technologies are used for custody transfer applications one such is the turbine flow meter. Custody transfer turbine flow meters meant for high-class metering of petroleum liquids such as crude oil, Diesel, and refined products. Turbine meters is a volumetric flow meter, its structure consists of the rotor mechanism, pickup coil, and an electronic module.  Its mechanism consists of a rotor with propeller-like blades that spin in proportion to flow rate as liquids pass over it.
The turbine flow meter is used to for measuring clean, steady, high-speed flow of low-viscosity fluids. In comparison to other custody transfer flow meters, the turbine flow meter has a significant cost advantage, especially in the larger line sizes. High accuracy and better reliability make it intended for use in fiscal or custody transfer applications.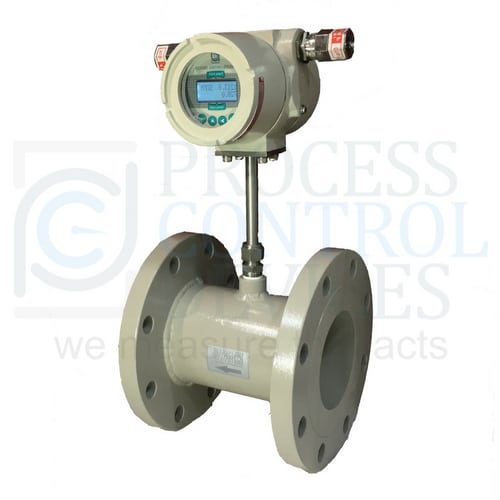 Turbine Flow Meter with Printer
Provides an imprinted track record of each delivery transaction through Thermal / dot-matrix printer. Printing data records real time, date, flow rate and accumulative flow of product transfer. Offer both alpha and numeric outputs in print format.
General specifications :-
Flow Range :       up to 1000 M³/Hr
Linearity: +/- 0.15% of reading or better
Repeatability:    +/- 0.02% (95% confidence level)
Optional NACE compliance per MR0175 available.
Traceability:  NABL
Applications of custody transfer turbine flow meter
On and Offshore allocation metering (bunker loading / unloading)
Pipe line metering stations
Tanker loading/off loading terminals
Storage management
Specification:-
Programming: By Membrane Key
Power Supply: 24 VDC Isolated, 230 VAC, 110VAC
MOC: SS304, SS316
Connection: Flanged to ASA, DIN, BIS