Acrylic Body Rotameter
rotameters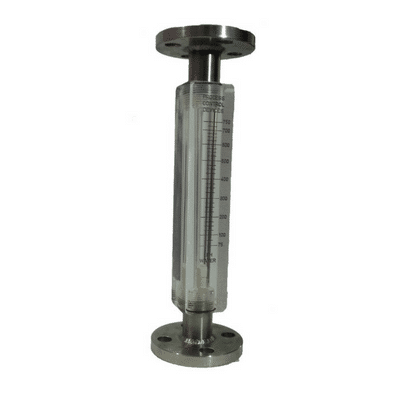 Process Control Devices offers a series of variable area flow meters. Designed to measures the flow rate of a fluid flowing through vertical pipelines. Acrylic body rotameter is economical and suitable for low flow rate indication for fluids. Acrylic body rotameters are intent for general in line metering applications for various Liquids & Gasses.
This rotameter manufactured in compliance with international standards utilizing high-grade components with the aid of cutting-edge technology. Where operating conditions are with the limitations of acrylic body metering tubes. The float moves up and down in tapered acrylic body tube. Where fluid flow is from bottom to top direction. The float takes up a position where buoyancy force applies and the float weight is balance in proportion to flow rate. The vertical position of the float as indicated by scale is the measure of the instantaneous flow rate.
Rotameters supplied by us is calibrated with Indian Government. We are leading manufacturer of the acrylic body rotameter in Mumbai India.
Specifications of Rotameters
Fluid: Liquids & Gases
Density / Sp. Gravity: Up to 1.85
Viscosity: Up to 100 cp
Design Temperature: Up to 35°C
Design Pressure: Up to 5 Kg/cm²
Measuring Range: 0.01 to 70 M3/HR of Water/Liquid 0.1 to 525 Nm³/hr of Air/Gas
Line Size: 1/4″ up to 4″ NB
End Connection Material : SS 304, SS 304L, SS 316, SS 316L, PTFE, PVC, PP
Connection: Flanged to ASA, BS, Triclover Standard  & Screwed to BSP, NPT
Accuracy: ±2% of FS
Features of Rotameter
► Easy to mount & Negligible Maintenance
► Instant flow rate indication using duly calibrated scale
► Compact design
► Fine-finish
► High performance
► Low-flow Measurement
► Accurate flow control
Maintenance

98%

98%

User Friendly

100%

100%

Accuracy

98%

98%

Perfomance

95%

95%
Application of Acrylic Body Rotameter
► rotating equipment flow measurement
► Process analyzers
► Inertisation of vessels and tanks
► Sample flow monitoring for analysis
► Emulsifiers and demulsifiers
► Gas seal monitoring for turbo compressors
► Coolant and lubricant
► Air supply, Condensate, and cooling water supply
► Dosing of ply in ETP plant
► Gas sparging aeration basin
Available Options
► Acrylic body rotameter with flanged connection and with/without isolation valve
► Acrylic body rotameter with vertically screwed connection and with/without isolation valve
► Acrylic body rotameter with rear connection and with/without isolation valve
► Acrylic body rotameter with vertical tri clover connection and with/without isolation valve
► Acrylic body rotameter with DP regulator and isolation valve
We are Exporters & Suppliers in Following States
| | |
| --- | --- |
| Maharashtra: | Nagpur, Nashik, Thane, Washim, Pune, Ahmednagar, Solapur, Amravathi, Mumbai, Aurangabad, Kolhapur,Navi Mumbai, Dhule, Chandrapur,etc. |
| Gujarat: | Morbi, Porbandar, Surat, Godhra, Veraval, Gandhidham, Ahmedabad, Anand, Jamnagar, Vadodara, Navsari, Rajkot, Bhavnagar, Nadiad, Botad, Bharuch, Ankleshwar etc. |
| Madhya Pradesh: | Singrauli, Morena, Burhanpur, Ratlam, Bhind, Sagar, Guna, Dewas, Satna, Jabalpur, Bhopal, Indore, Gwalior, Rewa, Shivpuri, Ujjain, Khandwa, Vidisha, Murwara, Chhindwara, etc. |
| Andhra Pradesh: | Guntur, Nellore, Chittoor, Rajahmundry, Anantapur, Kurnool, Khammam, Ongole, Proddatur, Adoni, Kadapa, Mahbubnagar, Tirupati, Karimnagar, Ramagundam, Warangal, Hyderabad, Madanapalle, Eluru, Vijayawada, Telangana, Visakhapatnam etc. |
| Uttarakhand: | Bageshwar, Tehri-Garhwal, Roorkee, Kashipur, Udhamsinghnagar, Rishikesh, Nainital, Rudrapur, Dehradun, Pithoragarh, Rudraprayag, Champawat, Chamoli, Haridwar, Uttarkashi, Almora, Garhwal, etc. |
| Tamil Nadu : | Coimbatore, Chennai, Madurai, Tiruchirappalli, Tiruppur |
| Uttar Pradesh : | Kanpur, Lucknow, Ghaziabad, Allahabad |
| Punjab and Chandigarh : | Amritsar, Jalandhar, Patiala, Haryana, Ludhiana |
| Odisha : | Bhubaneshwar, Cuttack, Madurai, Sundargarh |
| Karnataka : | Bengaluru |
| Rajasthan : | Jaipur |
| Other Cities/States: | Sikkim, Asam, Tripura, Daman and Diu, Jharkhand, Ranchi ,Jammu and Kashmir,Srinagar Delhi, New Delhi, West Bengal, Kolkata, Darjeeling, Jalpaiguri, Kerala, Kochi, Goa etc. |
Want to buy Acrylic body Rotameter?
Contact us today and get best techno commercial quotation