Purge Rotameter
rotameters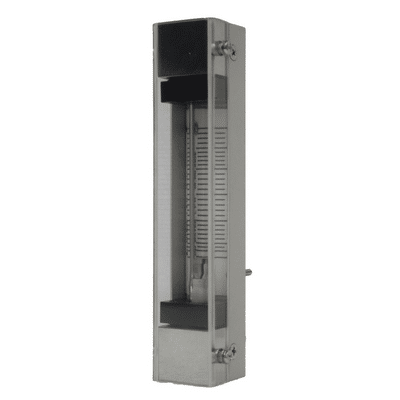 Description of Purge Rotameter
Process Control Devices offers a series of variable area flow meters in Mumbai. Designed to measures the flow rate of a fluid flowing through Vertical pipelines. Purge rotameter are cost-effective and convenient for low flow rate sign for fluids. Where operating conditions are with the limitations of Glass metering tube of rotameter. The float moves smoothly in an upward and downward direction in tapered Glass Tube with fluid flow from bottom to top.
The float takes up a position where buoyancy forces and the float weight is balance in proportion to flow rate. The top position of the float as indicated by scale is the measure of the instant flow rate. These also known as low flow rotameter. We provide flow calibration report with each rotameters with one-year validity. It is being used for purging / isolating or controlling of fluid passing through process pipes. We manufacture purge rotameter with a vertical connection, rear connection and offsets connection with isolation valves.  This is also known as low flow rotameter.
This rotameter comes with factory calibration certificate and one year warranty. We are reputed manufacturer of purge rotameter in Mumbai India
Specifications of Purge Rotameter
Fluid: Liquids & Gases
Sp. Gravity: Up to 1.85
Viscosity: Up to 220 centipoise
Design Temperature: Up to 100°C
Design Pressure: Up to 7 Kg/cm²
Measuring Range: 0.6 to 160 LPH of Liquids & 10 to 5000 NLPH of Gases
Line Size: " ¼" up to 1″ NB
Available Materials: SS 304, SS 304L, SS316, SS316L
Connection: Flanged to AS, BS, DIN, Triclover, Screw to BSP, NPT (M/F)
Accuracy: ±2% of FSD
Features of Purge Rotameter
► Extremely low flow
► Light weight
► Superior functionality
► Excellent performance
► Easy to mount & Negligible Maintenance
► Instant flow rate indication using duly calibrated scale
► Economical
► Compact
► Panel/Side Mounting
► Good Accuracy
maintenance

98%

98%

User Friendly

100%

100%

Accuracy

98%

98%

Perfomance

95%

95%
Application of Purge Rotameter
► Rotating equipment flow measurement
► Process analyzers
► Inertisation of vessels and tanks
►Sample flow monitoring for analysis
► Emulsifiers and demulsifiers
► Gas seal monitoring for turbo compressors
► Coolant and lubricant
► Dry-run and overheating protection
► Air supply, Condensate and cooling water supply
► Dosing of protective gas
► Gas sparging aeration basin
Available Options
► Purge rotameter with flanged connection and with/without without isolation valve
► Purge rotameter with vertically screwed connection and with / without isolation valve
► Purge rotameter with rear connection and with/without isolation valve
► Purge rotameter with vertical tri clover connection and with/without isolation valve
► Purge rotameter one flow alarm switch adjustable throughout flow range.
► Purge rotameter with DP (differential Pressure)regulator and isolation valve
We are Exporters & Suppliers in Following States
| | |
| --- | --- |
| Maharashtra: | Nagpur, Nashik, Thane, Washim, Pune, Ahmednagar, Solapur, Amravathi, Mumbai, Aurangabad, Kolhapur,Navi Mumbai, Dhule, Chandrapur,etc. |
| Gujarat: | Morbi, Porbandar, Surat, Godhra, Veraval, Gandhidham, Ahmedabad, Anand, Jamnagar, Vadodara, Navsari, Rajkot, Bhavnagar, Nadiad, Botad, Bharuch, Ankleshwar etc. |
| Madhya Pradesh: | Singrauli, Morena, Burhanpur, Ratlam, Bhind, Sagar, Guna, Dewas, Satna, Jabalpur, Bhopal, Indore, Gwalior, Rewa, Shivpuri, Ujjain, Khandwa, Vidisha, Murwara, Chhindwara, etc. |
| Andhra Pradesh: | Guntur, Nellore, Chittoor, Rajahmundry, Anantapur, Kurnool, Khammam, Ongole, Proddatur, Adoni, Kadapa, Mahbubnagar, Tirupati, Karimnagar, Ramagundam, Warangal, Hyderabad, Madanapalle, Eluru, Vijayawada, Telangana, Visakhapatnam etc. |
| Uttarakhand: | Bageshwar, Tehri-Garhwal, Roorkee, Kashipur, Udhamsinghnagar, Rishikesh, Nainital, Rudrapur, Dehradun, Pithoragarh, Rudraprayag, Champawat, Chamoli, Haridwar, Uttarkashi, Almora, Garhwal, etc. |
| Tamil Nadu : | Coimbatore, Chennai, Madurai, Tiruchirappalli, Tiruppur |
| Uttar Pradesh : | Kanpur, Lucknow, Ghaziabad, Allahabad |
| Punjab and Chandigarh : | Amritsar, Jalandhar, Patiala, Haryana, Ludhiana |
| Odisha : | Bhubaneshwar, Cuttack, Madurai, Sundargarh |
| Karnataka : | Bengaluru |
| Rajasthan : | Jaipur |
| Other Cities/States: | Sikkim, Asam, Tripura, Daman and Diu, Jharkhand, Ranchi ,Jammu and Kashmir,Srinagar Delhi, New Delhi, West Bengal, Kolkata, Darjeeling, Jalpaiguri, Kerala, Kochi, Goa etc. |

Want to buy Purge Rotameter?
Contact us today and get best techno commercial quotation