Hydrostatic Level Transmitter
Level transmitters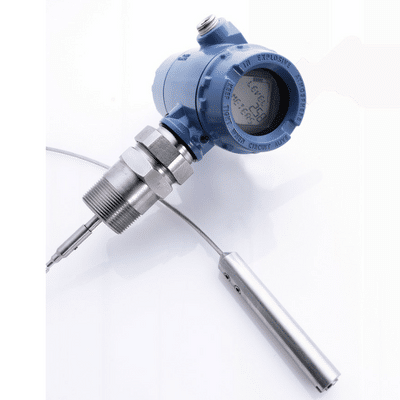 Description of Hydrostatic Level Transmitter
Process Control Devices offers a series of liquids level transmitters. Design for immersion in open Tanks, Wells, Groundwater and Reservoirs tanks. The hydrostatic level transmitter are designed for measurement under rough conditions in all water and wastewater applications area with the large presence of sludge and suspended solids.
The liquid column above the probe creates a hydrostatic pressure which is again converting into the electrical signal and from the electronic system indicates liquid level. Through its permanently connected cable is submerged into the liquid to be the monitor. These water level sensors are widely use in industrial as well as marine application. We are the reputed manufacturers of water level sensor in Mumbai India.
Specifications
Measuring range: 0~1meter to 0~100meters
Accuracy: +/-0.5%
Output signal: 4~20mADC two wire
Medium temperature: -40~80 °C special;l type:<=250°C
Ambient temperature: -30~80 °C
Power supply: 14V~36VDC; 24V/600 ohm
Process connection: Flanged
Flanged mounting: DN25~50PN1.0
Mounting: Top of the Tank
Enclosure: Weather Proof
Silent Features 
► 4-20mA output signal directly proportional to level
► Submerged ceramic sensor
► Best suitable for industrial or marine applications
► Wide range of installation options
► Low cost
► Intrinsically safe
Maintenance

98%

98%

User Friendly

100%

100%

Accuracy

98%

98%

Perfomance

95%

95%
Applications
► Service tanks
► Remote reservoirs
► Arduous shipboard duties
► Environmentally aggressive applications
► Most liquids and masses in tanks and vessels
► Chemicals with dense vapor or gas layers above the surface
► Foaming liquids
► Viscous or corrosive materials
Available Options 
► Basket strainer with flanged end
► Basket strainer with screwed end
► Basket strainer with Butt weld end
► Basket strainer with socket weld end
► Duplex basket strainer
Want to buy Hydrostatci level sensor?
Contact us today and get best techno commercial quotation